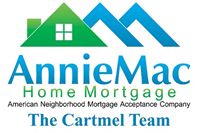 NMLS #338923
"Make sure that your actions and behaviors live up to and reflect the words, ideas, promises and commitments that come out of your mouth."
About Us
Family Operated Branch with Tyler and Travis Cartmel (brothers)
Tyler & Travis have over 25 years combined mortgage experience.
Tyler & Travis grew up locally, went to school locally (IU & Butler), and currently raise their families here. We know the local market exceptionally well.
Processor (Kristi Porter) in office with over 10 years' experience
Value Proposition
Platinum Pre-Approvals: We are very diligent with our pre-approvals and even have the ability to run a scenario by an underwriter in order to ensure the best due diligence upfront vs. loan being declined a week before closing.
"Common-Sense" underwriting: We can get an u/w on the phone during processing to problem solve if need be.
"On-Time" closing: We understand how many moving parts go into buying a new home especially the logistics involved surrounding the closing date including moving trucks, utilities and simply having a place to live when promised.
Communication and accessibility: This isn't just a marketing bullet point. This is a doctrine in which we are firm believers. This is also one of the great things about being on a team. When one is unavailable the other is there to answer any questions you have.
Consultative/Educational approach: Building a home and the financing process can be very overwhelming. We pride ourselves on walking every client thru the entire process from beginning to even after closing. The more questions the better.
Professional Advice: Too many times, the loan process is treated like a "one & done" transaction by the loan originator with a heavy "sales" approach. We treat every person like a "client" vs. a "customer." With that mindset, our goal is to be your mortgage advisor. We understand there is a duty and responsibility for us to have a vested interest in the mortgage decision you make which will affect you and your family for years to come.
Client Mission
Our mission is simple: Ultimately, between the big banks, credit unions, and mortgage lenders from the radio and internet, there are a lot of available options today from which to choose. However, we believe we are different. We are a family operated branch and our mission is to genuinely treat any client with the same level of service, communication, care and attention that we would give to our own parents who raised us. We believe this personalized approach is what makes for a seamless and pleasant experience and is what separates us from our competitors. Second, we truly believe in being transparent, upfront & honest about the process, fees, challenges, etc. We are passionately committed to helping individuals and families achieve financial security, their goals, and ultimately their dreams…
Contact a member of my team:
Tyler Cartmel

NMLS# 7540

Travis Cartmel

NMLS# 652395

Branch Manager

Loan Originator

Office: 317-578-3600

Office: 317-578-3600

Cell: 317-679-5979

Cell: 317-339-2936

Email: [email protected]

Email: [email protected]
Corporate NMLS # 338923
Indiana-DFI First Lien Mortgage Lending License
9880 Westpoint Dr, Suite 100
Indianapolis, IN 46256