At Indianapolis Homes Realty, we take great pride in the proficiency and quality of our listing process. By following our successful procedure, we will have your home sold in record time.
The first step is to sign a listing contract to have your home listed with us. Our listing coordinator takes care of making sure the listing is advertised correctly and noticeable to the buyers on the market. The next step is to get your home ready for photos and showings. This includes decluttering, cleaning, making necessary home repairs, upgrades, and home staging. This step, if executed correctly, will have a major impact on your home's perceived value. The third step is showcasing your home. This is when a scheduled photographer or videographer comes to your home and takes pictures (or other features mentioned below in our timeline graphic). This step is crucial to the listing of your home, so buyers are able to see your home in its best light. Selling real estate is a price war and a beauty contest, and you have to win both.
Below is a helpful info graphic of our listing process.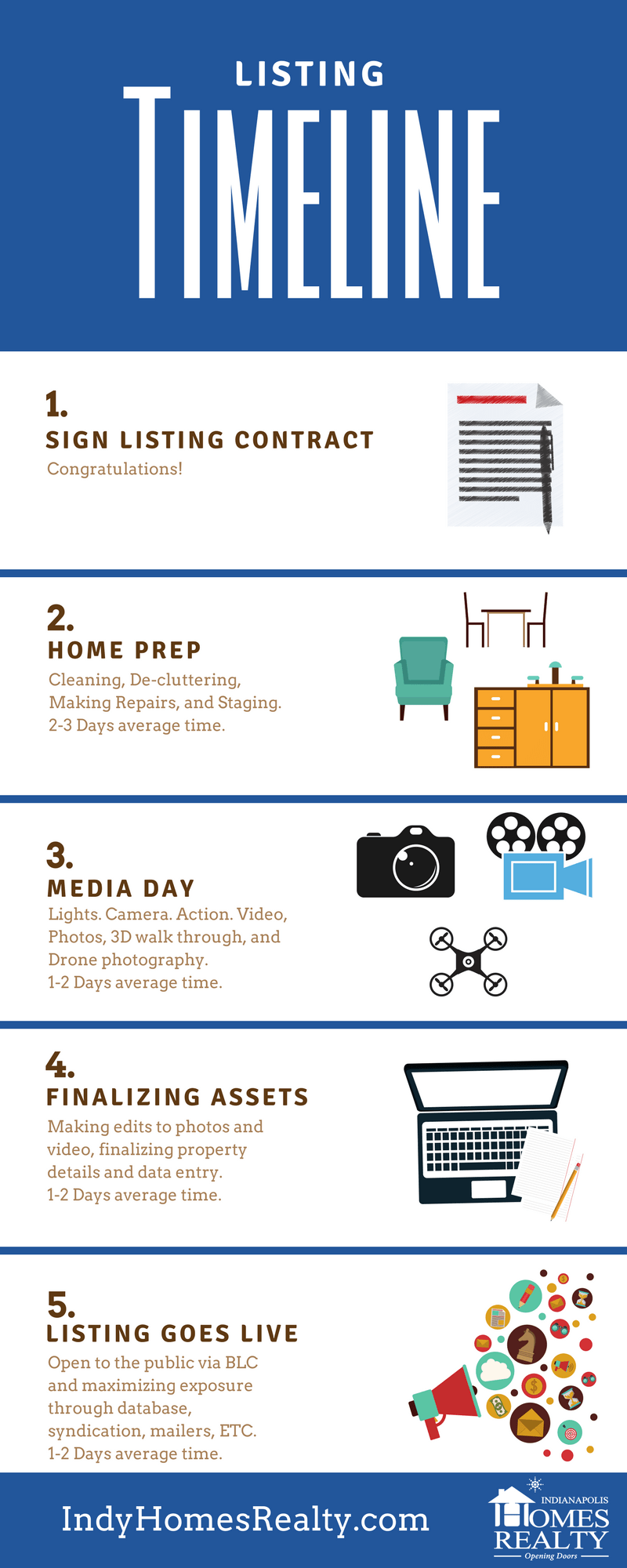 The fourth step involves our listing coordinator and our marketing assistant to make sure your listing has the final finishing touches before it is ready to go live. The listing coordinator will send out an email to the seller and the corresponding agent representing the seller to verify that the listing is accurate. The marketing assistant will then prepare the photographs from the photographer to put into your listing, as well as organize the photos for social media marketing. Lastly, once all the details of the listing have been verified for accuracy, the listing is now ready to go live! Hooray! Once the listing goes live, buyers who are searching for homes will be able to find your home through every major syndication website, such as Zillow, Realtor, Truila, Mibor, etc. After your listing goes live, prepare to receive showing requests, discuss feedback, and receive offers for your home.